Overview
What is the Reporting on Infringement of Personal Information?
It is a system by which anyone who suffers infringement of rights or interests relating to his or her personal information may report such infringement to the Personal Information Infringement Report Call Center (hereinafter referred to as the "Privacy Call Center") of the KISA, an operating agency designated by the Personal Information Protection Commission pursuant to the relevant laws and regulations, such as the Personal Information Protection Act, etc.
If infringements are reported to the Privacy Call Center, parties concerned will be investigated according to the Government's investigation plan, and necessary measures will be taken depending on the presence or absence of violations of laws and the extent of violations. The result is notified to the person who reported infringements.
In addition, one can receive information on personal information protection or one's own rights and interests in that regard by reaching the Privacy Call Center.
Legal Basis
Article 62 of the Personal Information Protection Act (Reporting on Infringements)
Reporting Procedure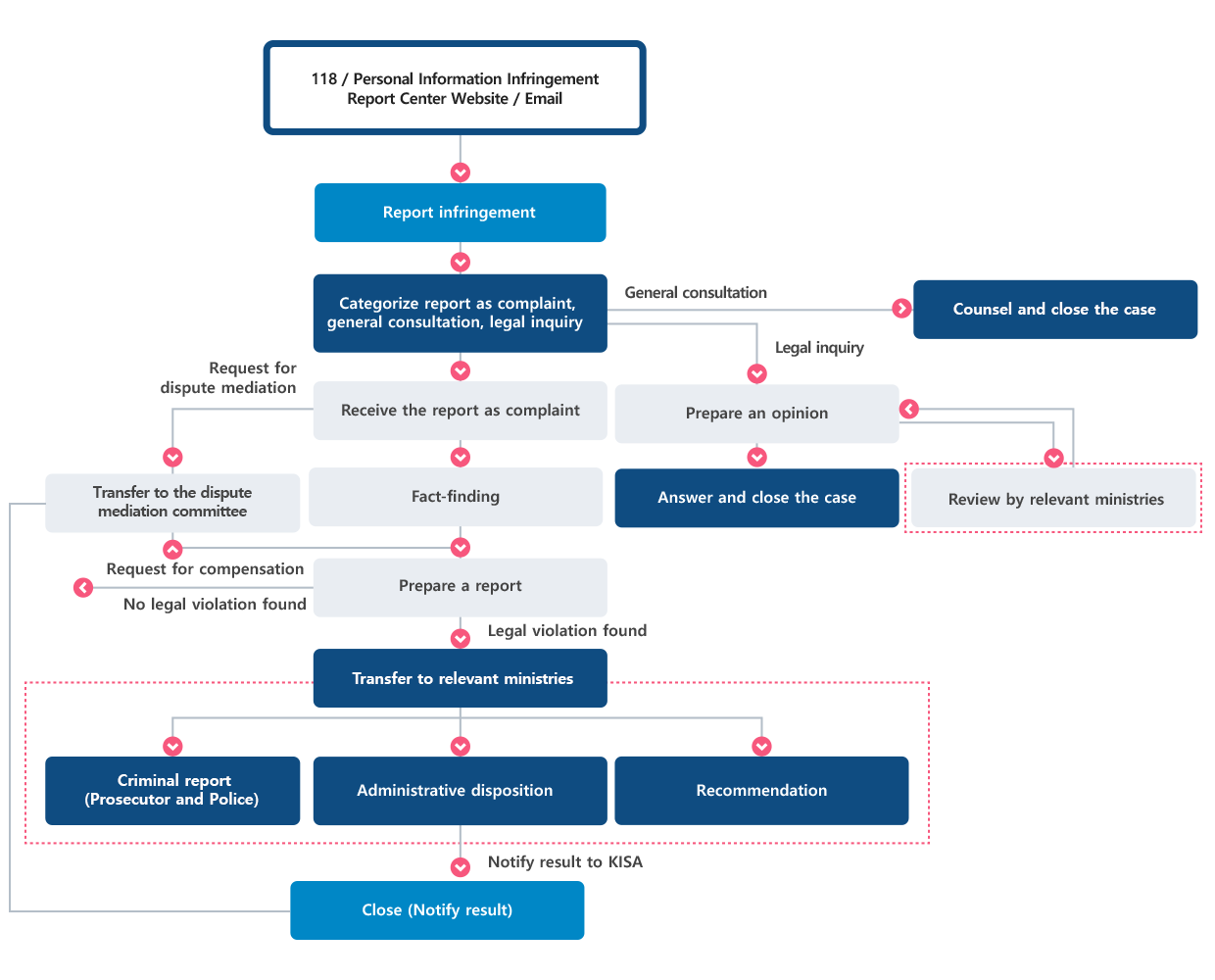 Enlarge image
Tel : 118 / Personal Information Infringement Report Center Website / Email
Role of relevant offices
Infringement report
Categorize report as complaint, general consultation, legal inquiry
Receive the report as complaint
Fact-checking
Prepare a report
General consultation
Consultation and close the case
Legal inquiry
Prepare an opinion
Answer and close the case
Review by relevant offices
Request for dispute mediation
Transfer to the Dispute Mediation Committee
Request for Compensation
No legal violation found
Legal violation found
Transfer to relevant office
Criminal report (Public Prosecutor, Police)
Administrative disposition
Recommendation
Notification of result to KISA
Close (Notification of the result)
Division in charge and Reporting agency
Division in charge
General Investigation Division of the Personal Information Protection Commission
Reporting agency
Korea Internet Security Agency (KISA)
Please, click the button below to report a personal information infringement case. For more inquiries concerning the report and request for consultation on personal information protection issues, visit the following website or call 118.
※ Contact

Contact

| | |
| --- | --- |
| Name of institution | Korea Internet Security Agency (KISA) |
| Phone number | 118 |
| E-mail address | 118@kisa.or.kr |
| Internet site | https://privacy.kisa.or.kr |
| Zip code | (58324) KISA, Jinheung-gil 9, Naju, Jeollanam-do |
※ For information on reporting divulgence by financial institutions such as banks, securities companies and insurance companies, credit information companies and claims collection agencies, please contact the Financial Services Commission (1332, www.fscs.kr).